Introduction
The XRPL has various institutions, developers, and even countries building on it so it's important for users to understand the various ways they can actually interact with the network.
This article will focus on wallets: specifically, the main XRPL-native wallet solutions, which include:
I'll cover their differentiation and how to get started yourself, before finishing up by covering a few non-XRPL native wallets that are also compatible with the network. Keep in mind that while their differentiators are based on discussions with their team and public information, it's possible that other differentiators exist that I missed. It's also possible the teams would represent themselves slightly differently if they were writing their own section.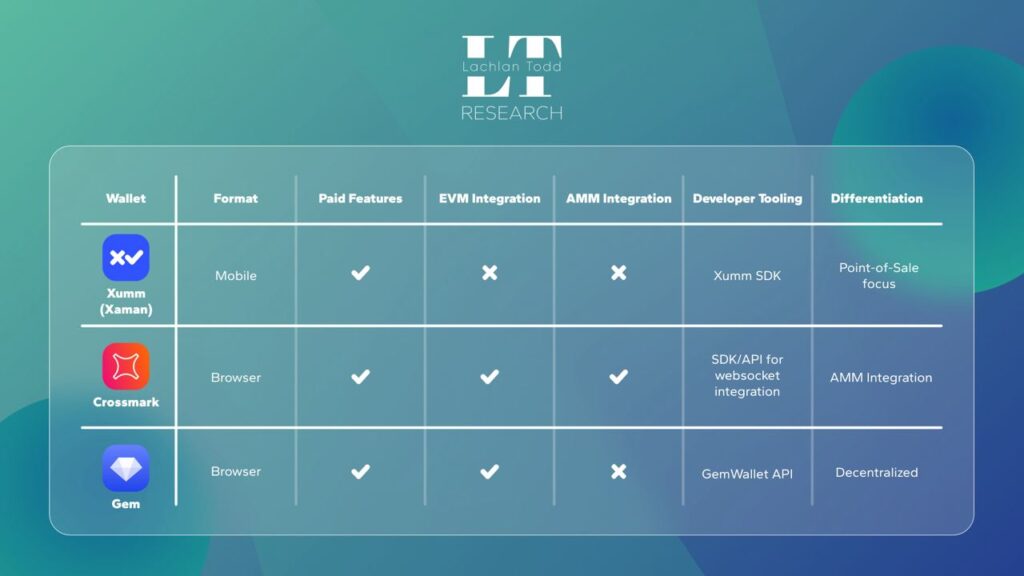 Xumm (Xaman) Wallet
It makes sense to begin with Xumm, the longest-standing XRPL wallet that will soon be rebranding to Xaman.
Key features include:
xApps: developers and users alike can create new applications together known as xApps.
Point-of-Sale (POS): focused on enabling real-world payments, one reason they chose a mobile-first architecture.
Xumm Pro: additional features such as profile creation and access to fiat on-boarding services.
To learn more about Xumm please visit https://xumm.app/.
Crossmark Wallet
Crossmark is a browser-based wallet that supports most major internet browsers.
Similar to Xumm, they allow applications to be built into their wallet, with many existing integrations such as with XRP Cafe, the XRPL's NFT marketplace.
Their open-source API and SDK allow existing applications to be integrated with them, and they are compatible with XRPL sidechains, such as the EVM sidechain.
Two unique features include:
Bulk transaction signing: a single click can be used to bulk sign decentralized exchange trades (to fill an order book), to mint 100 NFTs, and so on.
AMM support: The AMM is currently on devnet only and pending approval. However, it is already supported by Crossmark.
They are also keen on supporting cross-chain transactions, assuming that the XLS-38d bridge proposal is approved. They've also added support for the Xahau network and have a toolkit available for it here.
To learn more about Crossmark and to try it out, visit https://crossmark.io/.
GemWallet
Gem was released in November 2022 as the first browser-based XRPL wallet and is focused on a few key areas:
Ease-of-Use: they prioritize a simple user experience for both users and developers
Open-Source: anyone can check the code and suggest new features.
Decentralization: no backend or middleware – everything goes straight to the blockchain ledger.
They have their own API that also makes it easy for anyone to interact with the wallet. For example, a Solana developer new to the XRPL ecosystem but seeking to launch an NFT collection could use their API endpoint called CreateNFTOffer.
To get started with GemWallet visit https://gemwallet.app/.
Other Notable Wallets
The XRPL also supports non XRPL-native wallets, meaning wallets that began on other ecosystems such as Ethereum or non-EVM chains.
Some of these wallets include:
I'd recommend an XRPL wallet to those active in the ecosystem. However, those primarily active in another ecosystem (such as the EVM) and only wishing to test out the XRPL to start may find it easier from a UX perspective to simply connect their preexisting wallet.
Conclusion
I hope this serves as a good guide to those interested in an XRPL wallet but unsure where to begin. As we move into 2024 and blockchain activity likely picks back up, these wallets will mature further and I'll be sure to update here.
In the meantime – looking to get involved with the XRPL? Many large institutions and firms are beginning to build and it's a great opportunity for those with developer experience.
If you are interested in learning more about building on the XRPL, feel free to book a call with me and we can discuss the process.